Soulsha

"Multi-talented and visionary, Soulsha is more than a fresh breeze blowing; it's a tsunami of hope and high energy intercultural awareness washing onto our shores just when we need it. DANCE and ACT now!"
–Alasdair Fraser, Scottish Fiddler
"…this is purely infectious stuff… It's fresh, bold and exciting, and defies you to listen without moving and grooving to the beat; you might need to advise nearby friends, co-workers or fellow commuters in advance."
–Sean Smith, Boston Irish Reporter
Soulsha performances are extremely high energy, and feature traditional and original songs, bagpipes, sabar drumming, horns and traditional dancing.
Hip-shatteringly tight grooves laid down by funk-bass master Aaron Bellamy and veteran drummer Pete MacLean provide an irresistibly danceable pedestal for the  explosive joyfulness of  Scottish dance tunes on Elias Alexander's bagpipes and Galen Fraser's fiddle. Add to that Lamine Touré's mastery of sabar drumming, dancing and singing, Elias's soulful vocals, and tight horn lines from Jake Galloway and Dylan Sherry, and you have a force of nature on your hands.
Sound improbable? This band has a mission to reveal the rhythmic, melodic, and spiritual connections between traditional Scottish and traditional West African music, in an idiom updated through the evolutions of Funk, Afro-Beat, Highlife, and New Orleans music. No one will be left unmoved, or seated, as the celebratory exuberance of these diverse cultures unites on stage, reminding us never to forget that we're all in this together.
The Bywater Band
"A fiercely melodic and compelling sound…. Each number is something of a marvel." -Rambles
"Played with feeling and skill… top-notch music in the Scottish tradition with lots of contemporary influences." ~Gary Whitehoues, The Green Man Review
Contemporary Celtic music is a living, breathing art form, and Elias Alexander and The Bywater Band are on the forefront of creativity within it. Coming straight from the thriving Boston music community, their unique version of Scottish traditional music, infused with their own compositions, improvisation, and tones of American roots music, is something truly special. With their passionate performances and blazing tight virtuosity, they remind us of why traditional music continues to be relevant across continents and generations.
MAC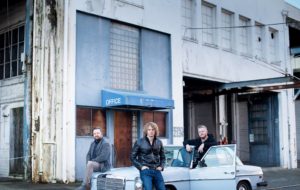 Ryan McKasson, Elias Alexander, and Colin Cotter
MAC is, at its core, part the natural progression of Celtic music as it has worked away into the American consciousness. McKasson, Alexander, and Cotter are all three well-versed in the Celtic music tradition, and the music that they write and perform is steeped heavily in this timeless tradition while calling upon influences ranging from rock to classical. Their performances reveal fiery personas tempered with artistry, finesse, and virtuosity as they draw from a deep well of innovative original music and lush arrangements of traditional songs and tunes.
The New Millennium Jelly Rollers
www.newmilleniumjellyrollers.com

Max Godfrey (fiddle, banjo, guitar) of Georgia, and Elias Alexander (guitar, fiddle, harmonica) of Oregon play Southern American traditional music with rare soul, striking a dynamic balance between rootedness and spontaneity. Their performances include mountain ballads, fiddle tunes, work songs, and country blues, as well as hilarious skits in the style of the Skillet Lickers. They have made names for themselves touring New England with performances that completely include the audience in a whirl of homeyness, laughter, and profundity.