Elias is the best kind of force of nature: musical, charismatic, witty, warm, and very gifted. And he plays the pipes! – among other things. A grand singer, guitarist and fiddler. His shows are spontaneous, moving and great fun!

~Kevin Carr

A fiercely melodic and compelling sound…. Each number is something of a marvel.

~Rambles

Elias's creativity is engaged every moment on stage. He went above and beyond what he was hired to do and increased the fun of our whole festival."

~EJ Jones, Grandfather Mt. Highland Games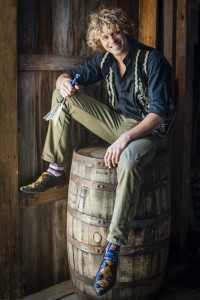 Elias Alexander is swiftly distinguishing himself in traditional music circles as a piper, singer,  composer, and sometime comedian.
Originally from Ashland, Oregon, he graduated from Middlebury College in 2013 with an honors degree in music, moving to Boston to be part of the vibrant traditional music scene there.
Elias has appeared with greats such as Carlos Nuñez, Alasdair Fraser, and Gillebrìde MacMillan, and has performed at top festivals such as Celtic Connections.
Elias is the frontman, piper, and co-founder of Afro-Celtic Funk band Soulsha, and the leader of Elias Alexander and Bywater Band (formerly known as Fresh Haggis). He also performs with Georgia Old-Time duo The New Millennium Jelly Rollers, and with MAC.
A regular staff member of Alasdair Fraser's Sierra Fiddle Camp and Creekside Fiddle Camps in Ashland, OR, he is in demand for teaching at other camps around the country.